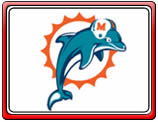 National Football League

Sportsevent.net provides you with information for the Miami Dolphins. Search our ticket inventory below for schedule events and ticket availability. Miami Dolphins Tickets may be purchased 24 hours a day through our secure online servers or by phone at 1-800-669-0571. Our ticket inventory is continually updated so check back often or call us if the seats you desire are not available.
The Dolphins expect to capitalize on the momentum they built up late last season and contend for the division title and a play-off berth. With the Bills and Jets adjusting to new head coaches and rebuilding, the Dolphins will likely battle the Patriots for the top spot. Whether Miami can knock off the Pats will come down to QB play and the transition of new coordinators. If Daunte Culpepper can regain his Pro Bowl form, Miami could be a formidable team in the coming years.

Head Coach: Nick Saban (Regular-season 05 record: 9-7) Offensive Coordinator: Scott Linehan Defensive Coordinator. Richard Smith

Miami's six-game winning streak to close last season is the seventh longest in team history and the longest since 1992, when the Dolphins won six in a row to begin the year.

With lost of Ricky williams Running Back for the 2006 season. But they pick up a franchise quarterback Daunte Culpepper from Minnesota he is still on injure list for early part of this season. Also pick up wide reciever Kelly Campbell Minnesota, Will Allen CB NY Giants, Andre Goodman CB New Orleans, and many others. Alot of structure building has went into this team they are looking make their team into the 1972 dolphins who were undeafted that year winning the super bowl.

2006 Team Draft Notes: The Miami Dolphins need players that can help throughout their secondary, and they picked up a guy who can help at multiple spots, drafting Tennessee safety/cornerback Jason Allen at No. 16 in the 2006 NFL Draft. Allen's versatility should allow the Dolphins to get him on the field immediately. In the third round, the Dolphins added Arizona State wide receiver Derek Hagan. Always in need of offensive linemen, Washington OT Joe Toledo was taken in the third round before three seventh-rounder. And in that seventh round, the Dolphins probably got the bargain of the draft with Texas DT Rodrique Wright. Defensive tackle Fred Evans and WR Devin Aromashodu were also selected.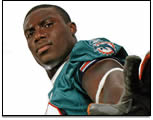 It all revolves around him Ronnie Brown. He's athletic, he's got good balance and good change-of-direction and he can catch the ball. Good player. I would just be concerned about him as a 25-30-carry guy and lasting the whole season. And that's based on what happened his rookie year, when he got hurt and missed the last couple of games. I don't think he has the \ durability to go 16 games if [Daunte] Culpepper isn't ready to play or isn't his old self and with Ricky Williams suspended again. He didn't make it through the entire season last year and I don't think that will change. They need a one-two punch that they don't have now. I think what they will do is what Jon Gruden did in Tampa Bay last year with Cadillac Williams, and they'll ride Ronnie until he breaks down. They've got to have somebody to spell Ronnie."

Miami Dolphins 2006 Schedule
| | | | |
| --- | --- | --- | --- |
| Week | Date | Time | Opponent |
| 1 | Thu. Sep. 7 | 8:30 p.m. ET | |
| 2 | Sun. Sep. 17 | 1:00 p.m. ET | |
| 3 | Sun. Sep. 24 | 1:00 p.m. ET | |
| 4 | Sun. Oct. 1 | 1:00 p.m. ET | |
| 5 | Sun. Oct. 8 | 1:00 p.m. ET | |
| 6 | Sun. Oct. 15 | 4:15 p.m. ET | |
| 7 | Sun. Oct. 22 | 1:00 p.m. ET | |
| 8 | | | BYE WEEK |
| 9 | Sun. Nov. 5 | 1:00 p.m. ET | |
| 10 | Sun. Nov. 12 | 1:00 p.m. ET | |
| 11 | Sun. Nov. 19 | 1:00 p.m. ET | |
| 12 | Thu. Nov. 23 | 12:30 p.m. ET | |
| 13 | Sun. Dec. 3 | 1:00 p.m. ET | |
| 14 | Sun. Dec. 10 | 1:00 p.m. ET | |
| 15 | Sun. Dec. 17 | 1:00 p.m. ET | |
| 16 | Mon. Dec. 25 | 8:30 p.m. ET | |
| 17 | Sun. Dec. 31 | 1:00 p.m. ET | |
Buy Dolphins Tickets - SportsEvents.net Ticket Broker
Ticket prices are generally sold over face value and include service charges. SportsEvents.net is an independent broker not associated with Ticketmaster or any box office. All Miami Dolphins ticket sales are final and non-refundable and purchases are shipped through FedEx. Please read our Policy page for any additional questions.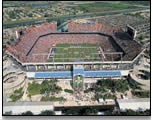 Venue:
Dolphins Stadium
Location:
Address: 2269 N.W. 199th St. Miami, Florida 33056
Capacity: 74,916 Turf: Grass

Theatre Events


Secure Online Ticket Shopping.