Rock and Pop Concerts
Country and Folk Concerts
Hard Rock and Metal
Alternative Rock Concerts
Latin
Rap and Hip-Hop Concerts
Comedy Shows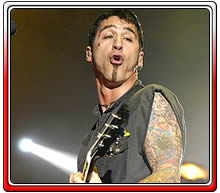 Sportsevent.net is a licensed ticket broker selling Godsmack concert seats. Search our ticket inventory below for schedule and ticket availability. Godsmack Tickets may be purchased 24 hours a day through our secure online servers or by phone at 1-800-669-0571.
Our ticket inventory is continually updated so check back often or call us if the seats you desire are not available.
Ticket prices are generally sold over face value and include service charges. SportsEvents.net is an independent broker not associated with Ticketmaster or any box office. All Godsmack ticket sales are final and non-refundable and purchases are shipped through FedEx. Please read our Policy page for any additional questions.
Godsmack Category: Alternative Rock
The Boston-based alternative metal group Godsmack originally comprised vocalist Sully Erna (a devout Wiccan), guitarist Tony Rambola, bassist Robbie Merrill and drummer Tommy Stewart. After debuting in 1997 with All Wound Up, Godsmack
signed with Universal, who in 1998 reissued the LP as a self-titled effort with a handful of new tracks; at that point Stewart who'd left the group in mid-1997 and was replaced by drummer Joe D'Arco returned to the lineup on a permanent basis.

Godsmack purchases are shipped through FedEx and generally arrive between one and four business days depending upon the purchase date and event date. We also offer shipment tracking to ensure that your tickets arrive on time.
Concerts: Godsmack Tickets

Theatre Events


Secure Online Ticket Shopping.